Where to go, where to stay, and what to do for your trip of a lifetime
The idea is that you'll only do it once. Thus your honeymoon is one of those high-stakes trips to plan. "Nowadays, with more couples marrying later in life, often after years of already living together, the honeymoon is a great time to make a shared check off of the bucket list destination trip, and do something bigger, bolder, or over a longer period of time than usual. The honeymoon is about making memories and stories to last a lifetime," says Joan Roca, founder of the bespoke travel site, the Essentialist. Roca, who has planned honeymoons to everywhere from Seychelles (his recommended place to stay in the Raffles hotel in Praslin) to Kyoto, says his advice, while common sense, often gets overlooked in the planning: give yourselves a few days to readjust to the new time zone and remember that shared discovery is essential, so try and go someplace neither of you has been.
Now we break down our 50 T&C approved honeymoon destinations, plus where you should stay in each place. We've got all types of travelers covered—from a trek across the Serengeti to private islands, one of which only allows 400 people at a time, to food and wine destinations to urban escapes.




1-
Santa Barbara, California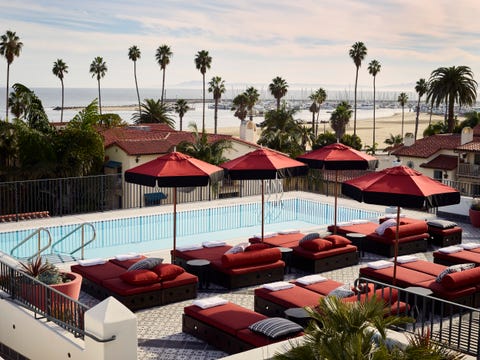 Recently recognized in both The New York Times' "52 Places to Go in 2019" and AFAR's "Where to Go in 2019," Santa Barbara is bringing serious destination buzz to romantics who want a city-meets-beach escape. When you need a bit of activity, Santa Barbara has wine & craft beer tasting rooms, fresh eateries, art galleries, street murals, and more. Our pick of where to stay: The Hotel Californian for its rooftop pool with a panoramic view of the Pacific and their luxurious Moroccan-style Spa Majorelle with one-of-a-kind couple treatments.
2-
Kohala Coast, Big Island, Hawaii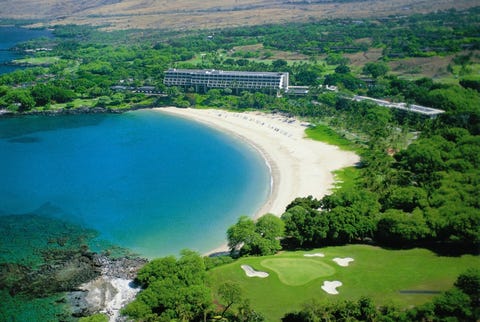 Hawaii and honeymoon are somewhat synonymous but a venture off the beaten path a little bit and head to the Kohala Coast of the Big Island, where one of the most swimmable beaches (Hapuna Beach) is located. Adventures can go flight-seeing on a helicopter experience or take a nighttime snorkel to view manta rays. We recommend the Mauna Kea Beach Hotel, a mid-century, open floor plan masterpiece from Laurance S. Rockefeller that features cantilevered stairways and hallways donning a museum-worthy collection of Asian Pacific Art.




3-
Big Sur, California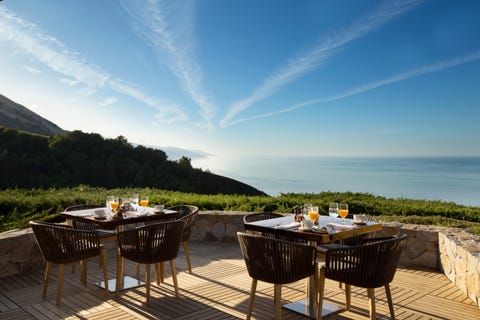 A land of sweeping views known for its mind-body-soul getaways and retreats, Big Sur has towering redwoods, whimsical meadows, and the Pacific coastline. To indulge in the quintessential (and romantic) Big Sur experience, head to the Ventana Big Sur, for its infinity-edge hot tub, clothing-optional Mountain pool, and adjacent Japanese hot baths.
4-
Maui, Hawaii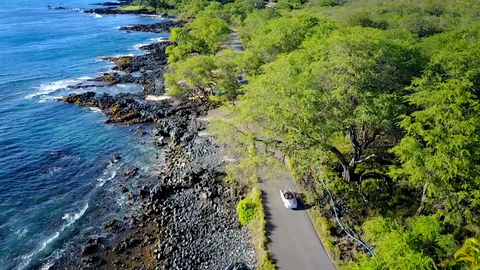 They know how to do honeymoons on Maui. The island has a romantic but relaxed feel, with enough culinary options to eat a different restaurant every night, whale watching during certain times of the year, and gorgeous beaches and even rain forests if you are up for a day trip. Soak it all in at Hotel Wailea, an adult-only, all-suite property overlooking three Hawaii islands.






5-
Punta Mita, Mexico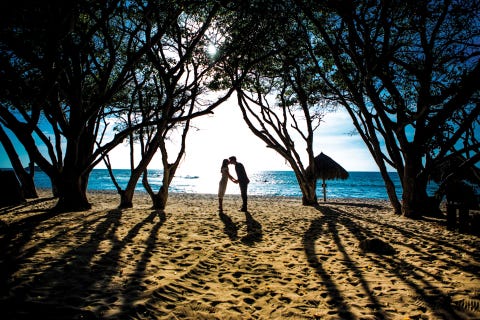 COURTESY OF THE FOUR SEASONS PUNTA MITA
A 1,500-acre coastal peninsula in the Riveria Nayarit region is an oasis of wellness and indulgence. Located on the west coast of Mexico, there are surf villages, whale watching, and a host of biodiversity, not to mention a wild, untamed feel if you venture beyond the luxury hotels and golf courses. The Four Seasons Resort Punta Mita has unique spiritual activities like a chakra balancing ritual, an intention burning ceremony, and yoga atop a rock. All of these are offered as part of the property's Soulcation package that is a mix of spa, wellness, culinary (a chef will meet you to discuss your dietary restrictions), art activities, with an oceanfront suite to retreat to in between.
6-
Lake Como, Italy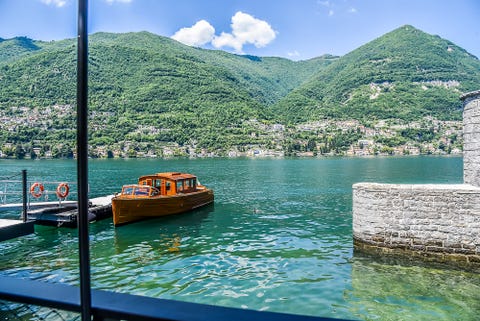 COURTESY OF LE SERENO LAKE COMO
Boating, pasta, lounging by a fresh saltwater pool. Isn't that what a honeymoon is supposed to be? Lake Como is an upscale resort area (George Clooney has a home here) set against the dramatic scenery of the Alps. Il Sereno Lake Como is the first contemporary luxury hotel on Lake Como. The property has 30 spacious waterfront rooms with floor to ceiling windows. Its new world meets old world in one of the most romantic settings in the world.




7-
Pacific Harbor, Fiji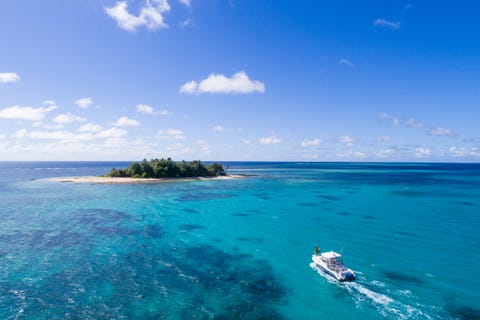 COURTESY OF NANUKU, AUBERGE RESORTS COLLECTION
Remote, tranquil, with crystal clear water, Fiji is the ultimate place to decompress post-wedding. Fiji is a haven of luxury properties, many with their own private island. Is there anything more romantic than being alone in the middle of nowhere? Nanuku, a part of the Auberge Resorts Collection, offers guests the option of renting out the resort's exclusive two-acre private island, located a 25-minute boat ride away from the main property.
8-
Bora Bora, French Polynesia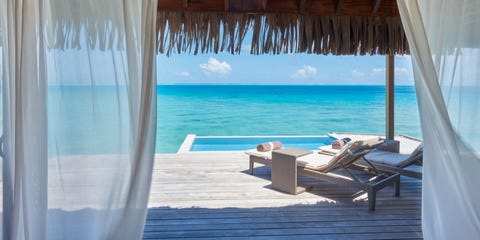 Known for its scuba diving and protected coral reefs, Bora Bora in French Polynesia is another remote, castaway type destination for honeymooners who want to get away from it all—and who are up for a big splurge. The Conrad, located on a private cove on the island of Motu To'opua, is the longest stretch of white sand beach in Bora Bora. They have some of the destination's first two-story overwater bungalows and one of the most legendary sunsets.




9-
Peninsula Papagayo, Guanacaste, Costa Rica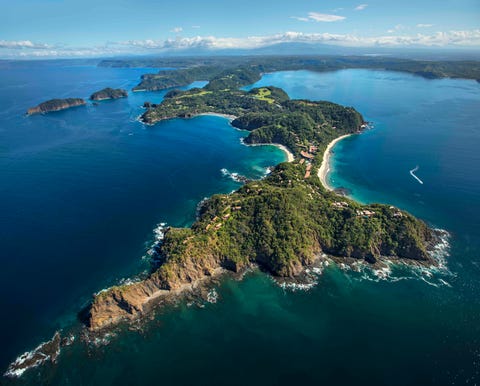 ALLEN KENNEDY PHOTOGRAPHY
The 1,400-acre Peninsula Papagayo is an eco-luxury resort and residential community in northwest Costa Rica. Home to exotic wildlife and white-sand beaches, it's the ideal jumping-off point for exploring Costa Rica's awe-inspiring nature with your other half. Peninsula Papagayo is home to Four Seasons Resort Costa Rica at Peninsula Papagayo. Couples looking for a mix of hire wire adventure–think zip-lining–and some R&R can find it all here.
10-
Nova Scotia, Canada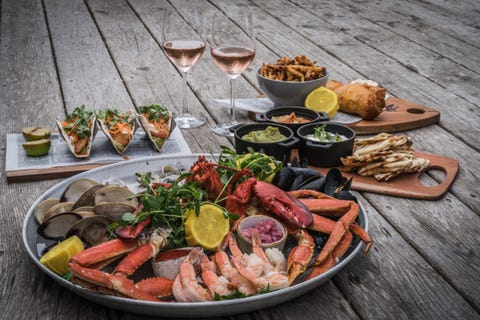 For those looking for a slightly out of the box honeymoon, the coast of Cape Breton Island in Nova Scotia is just the place. Home to two of the top 100 golf courses in North America (ranking No. 43 and No. 9 on Golf Digest's "World's 100 Greatest Golf Courses), honeymooners also have access to world-class biking, hiking, and sunset boat tours. Seafood heaven, this is the place to get first-rate lobster, crab, salmon, and naturally farmed local produce. Cabot Links is a secluded 72-room luxury resort with 19 oceanfront villas along the stunning coast of Cape Breton Island.




11-
Sorrento, Italy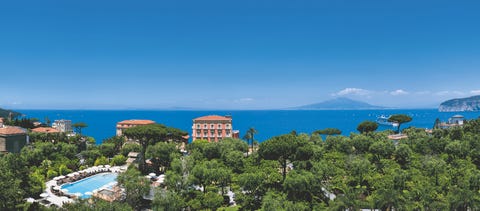 COURTESY OF GRAND HOTEL EXCELSIOR VITTORIA
One of the gateways to the magical and romantic Amalfi Coast, Sorrento, a beautiful cosmopolitan city, has the perfect combination of a real town and access to the sea. To have all of this at your fingertips, stay at the luxe Grand Hotel Excelsior Vittoria, which sits above the town harbor and is surrounded by the lush greenery of a 20,000 square meter Mediterranean garden—a perfect place to take the in the scenery with your plus one.
12-
The Azores, Portugal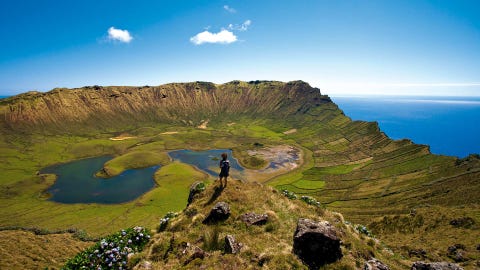 COURTESY OF AZORES GETAWAYS
Have you heard of the Azores? It's a group of nine islands in the middle of the Atlantic and around a five-hour flight from New York City. (Delta has a nonstop route from JFK to Ponta Delgada Memorial Day through Labor Day). Teeming with untapped nature for gourmands and adventure enthusiasts —all for relatively low cost as the area is still relatively undiscovered by tourists. The best way to experience the destination is through Azores Getaways, a customizable tour operator. They've introduced all-new food and wine packages, like allowing (very ambitious) visitors to travel to all nine islands in one trip. The best part is that the kits include accommodations, roundtrip flights, breakfast, airport transfers bundled for more comfortable travel–one less thing for honeymooners to think about.
13-
Lord Howe Island, New South Wales, Australia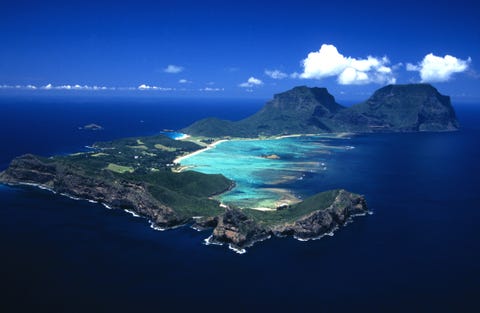 COURTESY OF CAPELLA LODGE
This crescent-shaped, World Heritage-listed island is the ultimate honeymoon getaway, with good weather and just 400 visitors allowed at any time—it truly feels like your own secluded paradise, one that has the world's most southerly coral reef on its doorstep. Stay at the Capella Lodge, the island's luxurious retreat with nine contemporary island-style suites. Inspired by the carefree spirit of the authentic Australian beach house, Capella Lodge hits the sweet spot of barefoot luxury.
14-
Puntarenas, Golfo Dulce, Costa Rica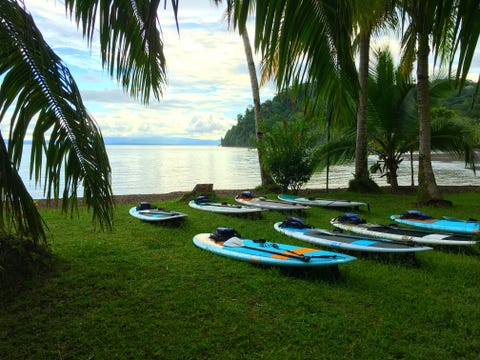 COURTESY OF PLAYA ACTIVO LODGE
Located in the heart of Costa Rica's rainforest on the coasts of Golfo Dulce in the Osa Peninsula and accessible only by boat, this area of the country is worth coming to for Playa Cativo–an upscale beachfront eco-lodge. This five-star Costa Rican hideaway is a wellness haven. You'll find calming ocean waves, lots of wildlife, and exposure to some of the purest, least developed parts of the world.




15-
Canouan, The Grenadines
COURTESY OF THE MANDARIN ORIENTAL, CANOUAN
A still somewhat undiscovered part of the Caribbean, Canouan, a 45-minute flight from Barbados, is an unspoiled tropical island offering excellent golf, tennis, deep-sea fishing, and sailing trips to the Tobago Cays. The Mandarin Oriental picked Canouan for its first resort in the Caribbean. An all-suite hotel with top-of-the-line Italian design, honeymooners, have their own private butler, and lots of options for romantic outings, from a private beach to an uninhabited island.
16-
Florence, Italy
COURTESY OF BAGLIONI HOTELS
A honeymoon to Florence gives you a bit of everything—food, seemingly unlimited culture, and easy access to the Tuscan countryside if you are looking for a jumping-off point for a more rustic trip. Relais Santa Croce exudes romance and history. Located in the 18th-century palazzo, the property offers something totally ideal for a party of two: a hot air balloon ride over Tuscany, complete with a champagne breakfast.
17-
Nevis
COURTESY OF GOLDEN ROCK INN
A charming and very low-key island, Nevis is known for its slow, relaxed pace, crystal clear water, and white sand beaches. But for a bit of a change to the typical Caribbean escape, there's Golden Rock Inn, designed by the architects of the famed AMAN resorts, that's a private 11-room property located in lush gardens owned by the famed New York artists Brice and Helen Marden. There are hiking trails, exceptional views, and gourmet food, all set against the chic jungle vibe of this higher-altitude part of Nevis.
18-
Turtle Island, Fiji
COURTESY OF TURTLE ISLAND
Turtle Island is a 500 square mile island that was privately acquired by a media mogul looking to escape urban burnout. The island is now home to over a million trees, bountiful reefs, and wildlife. The resort Turtle Island has 14 villas that have access to 10 private beaches, a myriad of water and land-based activities, local Fijian dinners inspired by the bounties sourced on-island ingredients. And everything is included in the nightly rate so honeymooners can really just totally bliss out.




19-
Tanzania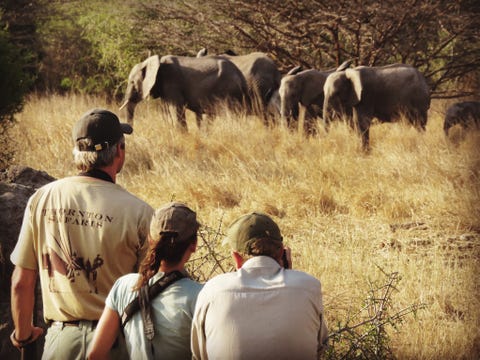 COURTESY OF MARK THORTON SAFARIS
For true adventure-seeking couples, head to Tanzania on a 10-day 62 miles expedition on foot across Serengeti National Park. Trek through the country's most remote and wild regions. This isn't about five-star accommodations–there are no lodges, no roads, no crowds, and no smartphones. So it's only walking, fresh cowboy coffee, long lazy lunches, journal-writing, photo-snapping, cold Tanzanian lagers at sundown, hearty meals of curries and stews, storytelling around burning campfires, stargazing and sleeping in a tent to the sounds of roaring lions, owls hooting, and grasses rustling. What some would call Africa at its best.
20-
Andaman Islands, India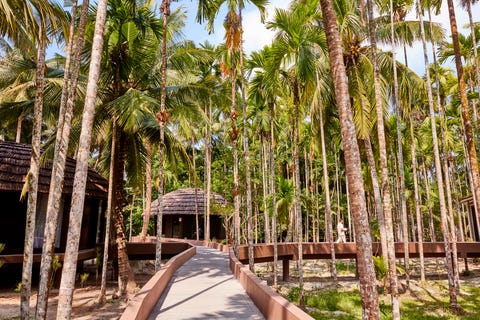 COURTESY OF TAJ EXOTICA RESORTS
Some of the most remote islands in the world are the Andamans, but worth the trip for its dive sites, beaches, and lush jungles. The Taj Exotica Resort and Spa is the first five-star hotel on Havelock Island, with 50 villas on a 46-acre estate. There are white sand beaches with crystal clear water, kayaking through mangroves, glow in the dark algae, and exceptional hiking and diving.




21-
Santorini, Greece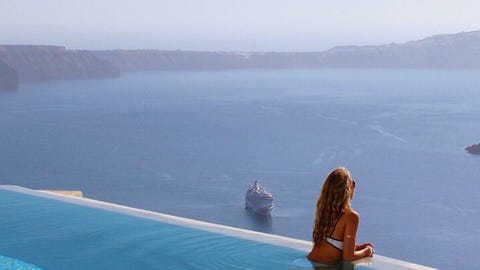 Santorini has long been an iconic honeymoon destination–and for a reason. The fantastic light, the sea, and the food all coalesce to create an undeniably magical atmosphere. The Auberge's boutique Grace Hotel in Santorini is located on the Imerovigli hillside in northwest Santorini. For those really looking to splurge and indulge (and if not on your honeymoon, when?), the property has a villa that comes with, among other amenities, its own hammam steam bath, indoor plunge pool, and fire pit.
22-
Mauritius
Located in the Indian Ocean, the island of Mauritius is known for its secluded, exclusive feeling, beaches, and reefs. Embodying all of this is the One & Only Le Saint Geran. Located on a vibrant coral reef, the hotel has modern, lush interiors, every kind of water sport imaginable, and world-class dining. Bottom line: you'll never want to leave.




23-
Praiano, Italy
Located next to the more well-know Amalfi Coast destination of Positano, Praiano is a more rustic and quaint Italian seaside town that is still, as much as anything can be on the Amalfi Coast can be, under the radar. One thing putting Praiano on the map is the ultra-modern hotel Casa Angelina, which has received a "Most Romantic Retreat" award from the Small Luxury Hotels group. The dramatic cliffs, the chic pool club, and floor to ceiling windows make this an ideal destination for honeymooners who are seeking the glamour of the Amalfi Coast but a bit removed from the crowds in a totally contemporary hotel.
24-
Hong Kong
A perfect jumping-off point for a honeymoon in Asia or a destination in and of itself, Hong Kong has one the world's best culinary scenes, beaches, and hiking that are an easy day trip, and some of the most deluxe accommodations anywhere. There is no better place to take it all in that the Peninsula Hong Kong, the city's oldest and most legendary hotel, located on the Victoria Harbour's waterfront district in the fashionable Kowloon district of Tsim Sha Tsui. And honeymooners don't even have to leave the hotel to get a dose of culture—the hotel has a global art program called Art in Resonance with curated, interactive pieces by artists from around the world.




25-
Sao Paulo, Brazil
One of Brazil's most dynamic cities, which can be a gateway to the rest of the country, is a great urban escape to begin or end a honeymoon. Or for the real city seekers, a place to spend the whole trip. The first Four Seasons in Brazil opened last year with locally sourced and luxurious finishes. The hotel also offers a "Fall in Love" package.